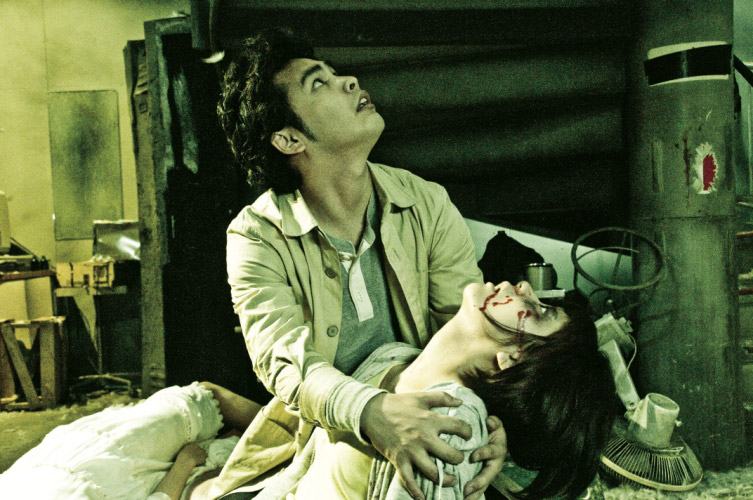 I think one thing that nearly every Japanese film buff can agree on is that commercialization is never a good thing in the modern Japanese film industry (I am purposely overlooking the golden age of Japanese cinema here, it's a different animal entirely). Particularly for Japan's horror industry, which became explosively popular internationally off the accomplishments of a few decidedly low-budget works. Since the success of films like The Ring and Ju-On: The Grudge, the Japanese horror genre has become increasingly decayed; focusing entirely on exploitation and losing the atmospheric horror of the earlier works or just being plain boring. Shimizu Takashi's Shock Labyrinth 3D is another example of this commercialization; taking an internationally-known filmmaker famous for his work in the horror genre and producing a film that uses the latest in 3D technology as an effective gimmick to draw audiences into theaters.
Shock Labyrinth 3D follows four teenagers through the Shock Labyrinth amusement part, the same park where one went missing years earlier. Filmed at the Labyrinth of Horrors in Fuji-Q Highland theme park (Fujiyoshida), the only positive thing I can say about the film is that it makes me want to go visit that damn haunted house. Shimizu does his best creating the atmospheric horror recognizable from his earlier works but his skills as a filmmaker really can't compensate for the abysmal story and acting. It is fairly surprising that a film starring several well-known Japanese actors – Maeda Ai (Battle Royale 2) and Yagira Yuya (Nobody Knows) – would be so flat and lifeless, but I think it's safe to assume they happily collected their salaries and mentally checked-out during filming. Make no mistake, this is a studio-driven money-making scheme and raised expectations are just foolish here.
The 3D is one of the best features of the film (even viewed through the glasses included in the DVD) and is used, for the most part, subtly and wisely. While directors typically chose to shove 3D effects right in your face (haha), I think it's most effective when employed in an unobtrusive, naturalistic style (Tron Legacy, for example). However, 3D is a troublesome match for horror films, which typically make use of shocking rapid cuts and close-ups (accompanied with a blaring soundtrack). 3D, in contrast, works best with long-takes and wide-angle lenses which highlight the depth of the third dimension. In this sense, Shimizu's style of filmmaking is a good match for 3D; his wide-angle scenes are slow-moving and minimalist, allowing the viewers to absorb the entire scene and notice the uncanny elements within, without any hand-holding from the director. The third dimension is a welcome enhancement to Shimizu's style; creepy monsters can now move within the environment, without the assistance of edits, revealing and obscuring themselves from the audience. Bodies are dragged backwards into gloom and female ghosts can descend upon us from above.
Thematically, Shimizu again chooses to play with the divide between reality and hallucination. The plot itself remains fairly mysterious through most of the film; is everyone already dead? Is this a nightmare? The character of Rin (Maeda Ai) also represents the limitations of vision and our ability to effectively perceive reality. Despite her blindness, she is typically more perceptive than her comrades and can more effectively navigate the labyrinth with the use of her other senses.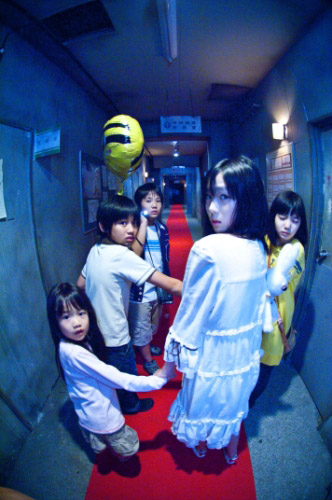 In Shock Labyrinth 3D, Shimizu has shown that he can fairly effectively employ 3D filmmaking in the horror genre and this integration creates a refreshing break of the standard horror movie tropes. However the film ultimately remains crippled by its flat characterization and a narrative that degenerates into a lot of running down corridors while chased by the ghosts of wronged women. If anything, Shock Labyrinth 3D may be proof that the box-office appeal of pale, ghostly women with bad grooming habits has finally died… Until the next sequel, of course.
---