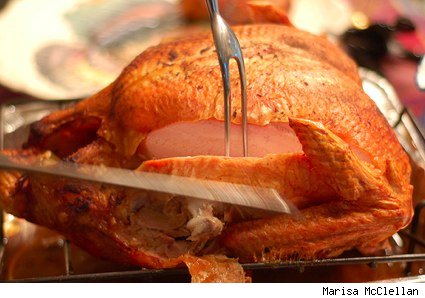 Because extreme over-eating and mandatory quality time with in-laws isn't gruesome enough already, here are the 10 Best Horror Movies for Thanksgiving. Remember, it's hard to run away from monsters and cannibals with a stomach full of turkey, so plan the most efficient exit strategy out of your house before binge-eating yams and pumpkin pie. It might just save your life, or at least help you avoid a goodbye kiss from your great-grandmother Besty-Lou. If you're like me, you may enjoy using horror movies to dissuade people from hanging out with you. But, for the social butterflies among you, I've divided this list into 'funny' and 'gruesome':
10 – Funny: BLOOD FREAK (1972) dir. Brad F. Grinter
I'm not sure how hard this movie is to get a hold of – I saw it at the Brattle Theater in Cambridge, MA during one of their late-night exploitation cinema marathons. The film follows Herschell (Steve Hawkes), a young man who falls into a questionable crowd and begins to engage in recreational drug-use and casual sex. Not long afterwards, his job at a turkey farm leads him to be exposed to a genetically-modified turkey meat. Much like Spiderman, Herschell is soon transformed into a mutant, blood-thirsty Turkeyman (AKA a man wearing a very fake turkey head) and begins drinking the blood of drug-addicts to fuel his own addiction. In the end, we discover that the entire film was merely a marijuana-induced hallucination. Perhaps the strangest of all anti-drug messages, the entire film is an extended metaphor on the horrors of drug addiction. Think of it as an alternative to DARE for your teenagers:
9 – Gruesome: FEED (2005) dir. Brett Leonard
If you're worried about over-indulging this holiday season, you may want to watch Feed as a deterrent. Alex O'Loughlin stars as Michael Carter, a 'feeder,' someone who derives sexual satisfaction from feeding overweight women large quantities of food. After stumbling upon his website, Australian sex-crime investigator Richard (Jack Thompson) travels toAmerica convinced that Michael is actually maliciously capturing and feeding these women to death. While the movie starts out strong, it loses it's footing halfway through and never regains its momentum. Still, an interesting premise that's quite apt for this holiday:
8 – Funny: BLOOD FEAST 2: ALL U CAN EAT (2002) dir. Herschell Gordon Lewis
Avid films buffs will likely prefer the 1963 Blood Feast, the first film to ever feature blood splatter. But this film provides a slightly newer take on the camp classic. Revisiting one of the most important films in the splatter genre, Blood Feast 2: All U Can Eat is more of a remake than a sequel. Fuad Ramses III inherits his grandfather's old property and quickly falls under the control of Babylonian goddess Ishtar. Bent on satisfying her need for blood and flesh, he happily embarks on a murder spree, killing and cooking the lovely women of the town and feeding them to the inhabitants. Full of bad dialog, nudity, and a few genuinely funny moments, Blood Feast 2 is a good movie for those who enjoyed The Evil Dead franchise. Despite its flaws, the film still manages to be rather enjoyable:
7 – Gruesome: RAVENOUS (1999) dir. Antonia Bird
Guy Pearce stars in the frontier revisitation of the Native American Wendigo myth as Captain John Boyd, recently transferred to a remote fort in the Sierra Nevadas. There, he encounters a traumatized stranger who recounts a story of cannibalism. As Boyd ventures out into the wilderness to search for survivors, he is drawn deeper into the mystery and the deranged mind of a killer. This movie has a lot of talking and focuses more on the characters rather than the more 'horror' oriented parts of the story. Kids and childish adults will be easily distracted:
6 – Funny: POULTRYGEIST: NIGHT OF THE CHICKEN DEAD (2006) dir. Lloyd Kaufman/Troma Entertainment
Troma Entertainment puts their unique spin on the 'ancient Indian burial ground' trope with this story about a fried chicken fast food chain that expands onto such a spot. Now cursed, the restaurant patrons begin suffering from severe food poisoning and are soon fighting for survival against a horde of revenge-bent zombie chickens. Like most Troma films, this movie is extremely campy and not for everyone. But if you're amused by fake vomit, blood and gore or have an intense hatred of Colonel Sanders, this is the film for you:
5 – Gruesome: CANNIBAL HOLOCAUST (1980) dir. Ruggero Deodato
Before The Blair Witch Project made 'found-footage' horror movies fashionable, there was Cannibal Holocaust and the mondo film movement in Italy. Also known as 'shockumentaries,' mondo films are semi-documentary films that focus on taboo practices and extreme subject matter. Cannibal Holocaust revolves around the found documentary footage (half-fake, half-staged) of a anthropological crew investigating cannibalism in the indigenous tribes of the Amazon. As the movie progresses, we discover that the film crew staged many of the events and their inhumane treatment of the natives is exposed. Cannibal Holocaust features disturbing special effects, extremely violent images, and the real mutilation and torture of animals. Definitely not for the faint-of-heart and certainly an appetite-suppressor:
4 – Funny: MOTEL HELL (1980) dir. Kevin Connor
Make no mistake; this film is definitely a spoof of classic slasher films like Texas Chainsaw Massacre and Psycho. Motel Hell follows too sinister farmers – Rory Calhoun as Farmer Vincent and Nancy Parsons as his wife – who kidnap unsuspecting travelers, bury them up to their necks in an outdoor garden, and hold them prisoner until their flesh is tender enough to eat. Certainly an interesting method of meat-tenderization and an interesting idea to entertain while you baste your turkey:
3 – Gruesome: THE WOMAN (2011) dir. Lucky McKee
Ladies, if you want to make sure your hard work in the kitchen is appreciated this Thanksgiving, you should think about popping The Woman into the DVD player before dinner. The Cleeks are an idyllic American family, at least to the casual observer. However, when successful lawyer and father Chris (Sean Bridgers) discovers a feral woman living in the woods, he decides to capture her, chain her up in the family's cellar, and civilize her. From here, the film spirals out of control and becomes an interesting study on civilization and the brutality that men are capable of inflicting upon one another (or, in this case, women). This film is delicately layered and extremely horrific, dark and demanding. If you're among a bunch of horror movie buffs this Thanksgiving, this would spark some interesting conversation over dinner.
2 – Funny: THANKSKILLING (2010) dir. Jordan Downey
This movie defines 'low-budget.' A fowl-mouthed, homicidal turkey (perhaps made of papier-mâché) is bent on seeking revenge for his fallen brethren. A slew of horror-movie stereotypes – the jock, slut, nerd, etc. – come home for Thanksgiving break and get killed off one-by-one. Look forward to watching this one after consuming ample amounts of spiked cider and repeating some of the great one-liners like "Gobble gobble, motherfucker" and "You've been stuffed!"
1 – Gruesome: THANKSGIVING (2007/forthcoming) dir. Eli Roth
I'll admit it, this is a complete cop-out. Eli Roth's feature-length version of Thanksgiving is slated to release in 2013, according to some film websites. Inspired by his 2007 'fake' trailer for Grindhouse, Thanksgiving is a unique take on 1970s slasher flicks…with a turkey-themed plot. If the trailer is an indication, Thanksgiving will be just a gruesome as Roth's previous works (Cabin Fever, Hostel) and it is the only movie by Eli Roth that I really want to be in existence. Watch the trailer and get ready to carve some meat:
Tags: blood feast, blood feast 2, cannibal holocaust, constantine in tokyo, constantineintokyo, feed, film review, Film Reviews, horror, lucky mckee, motel hell, poultrygeist, ravenous, thanksgiving, thankskilling, the woman, troma
---