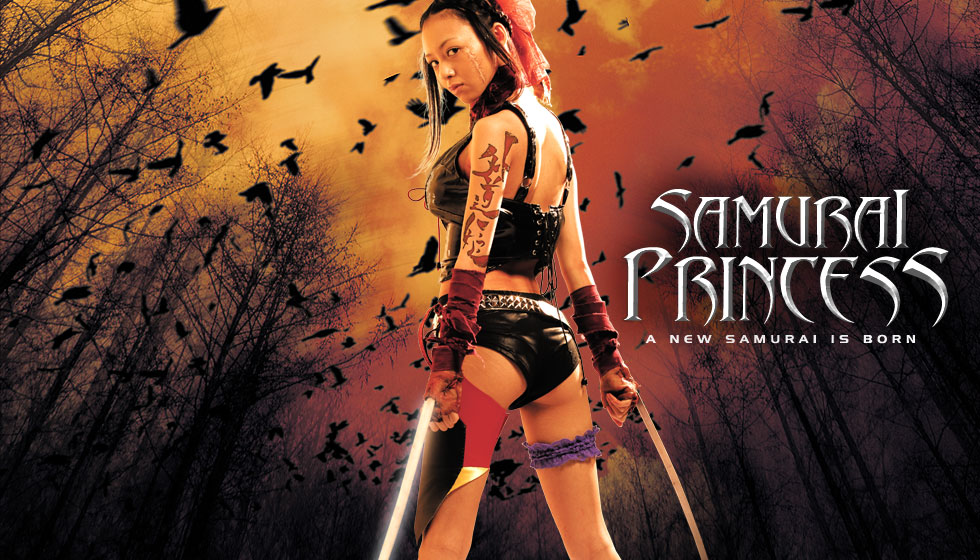 I'm a big fan of Asian Extreme cinema (Patrick Galloway's Asia Shock is a great introduction). Like most nerds, I'll watch all movies that fall into this category…even if I only end up liking 50% of them. Unfortunately this was the case with Kaji Kengo's Samurai Princess (2009). Sporting the talents of Nishimura Yoshihiro (the man responsible for the effects in Tokyo Gore Police), this movie had a lot of promise to be another flick full of nonsense, gore, and gory nonsense. Unfortunately, it fails to deliver on every level.
Starring AV (adult video) actress Kishi Aino as the Samurai Princess, the movie is a standard revenge story set in an 'alternate' Japan. Out for a fun romp by a river in a creepy forest with her friends (you know, because that's what young girls do?), a band of colorfully-dressed rapists decide to make sport of the young girls and proceed to rape and kill everyone but her. Shortly thereafter, her mostly intact body is discovered by a mad scientist, his annoying maid side-kicks, and a Buddhist priestess. Compelled by her plight, the scientist transforms her body into a 'Mecha' (some sort of advanced cybernetic doll) and the priestess infuses her with the souls of her eleven dead friends. Of course, the scientist also enhanced the body of the gang leader responsible for the murders and expects to watch her fail for his own entertainment. But, with the aid of a mysterious young man with a fur-clad guitar and the help of her dead sisters, the Samurai Princess ultimately succeeds in her suicide mission. On the way, she encounters plenty of breast grenades (reusable?), guitar swords, chainsaw legs, and buckets of blood you'd expect from a typical ero guro (エログロ,) films. Pretty standard stuff.
 
However, the overall effect is lackluster. First off, the setting is really never adequately explained. Initially, Samurai Princess appears to be set in an alternate feudal Japan overrun by mutants with bad fashion sense. But many of the costumes and props imply that the movie is set in more modern times. Not that the exact date is really important, but it seems a bit inconsistent. Also – why is every damn scene set in a forest? Why is everyone in a forest? Is it a special forest that is stuck in a wormhole that separates them from the time stream? Look, I know that the real reason is because this was the location they could afford given the budget. Plenty of extreme horror flicks are set in ridiculous forest locations, but they also explain WHY they are there. In Versus, it's because the characters are either A) escaping from prison or B) yakuza burying dead bodies. In Zombie Jietai, it's because the characters are either A) filming a weird idol video or B) conducting field training. The reason doesn't need to be good, but it needs to exist. 
 
Additionally, the low budget really hurt this film a lot. There are plenty of ways to work around budget limitations, basically none of these films are made with a lot of money and many of them are quite good. But in the case of Samurai Princess, it looks like the costumes were made by a designer who can't sew (mostly they just have swatches of cloth draped over store-bought pieces). The film is also shot on video, usually handheld, and it's fairly obvious no one was expecting this movie to be shown in theaters. Even the presence of the exceptionally talented and creative Nishimura Yoshihiro isn't enough to make the gore and special effects decently enjoyable. If you've picked up this movie because, like me, you love to see endless rivers of blood created by bizarre crazy half-man/half-machine creatures, you will be disappointed. Finally, the performance by Kishi Aino really isn't strong enough to carry the film. If they had cast a more capable actress, the lower budget and story limitations might be less irritating. Unfortunately, Kishi infuses the Samurai Princess with little personality or emotion of any kind. Even the nudity and sex is lacking. For a film that was promoted as 'adult,' I really expected MORE!
 
Samurai Princess hasn't made me hate this genre of filmmaking. While it does boast many of the men responsible for making Japanese gore so internationally popular (particularly Nishimura), it's definitely not something I'm going to watch again or show other people.
Tags: constantine in tokyo, constantineintokyo, film review, Film Reviews, horror, J-horror, japanese film, kaji kengo, nishimura yoshihiro, samurai princess
---