Horror is typically regarded as the least feminist genre of film; a genre that routinely objectifies, sexualizes, tortures, rapes and murders women and girls. However, if viewed from a different angle, horror films often feature story lines that grant wronged women the power and agency (in death) to respond to the injustices done to them in life.
'Dead wet girls' is a term coined by David Kalat in his book J-Horror to describe the unique female ghosts who are so iconic in Japanese horror. While popular Japanese films like RING and JU-ON have made this figure recognizable to Western audience, the wronged woman has been a prominent figure in Japanese ghost stories and mythology for centuries. Of course, the interpretation of these stories is fairly ambivalent; often the presence of malignant ghosts and spirits is connected back to the failure of mothers and wives to perform their womanly duties. In many Japanese folktales, female spirits are connected back to the savage and unpredictable natural world.
 TRADITIONAL JAPANESE GHOST TALES
The best example of this connection to nature is the Yuki-onna (snow woman), famously depicted in Kobayashi Masaki's KWAIDAN (1964). The Yuki-onna is a beautiful woman with long black hair, who typically appears before travelers lost in snow. The Yuki-onna typically kills the unfortunate travelers she meets, though she may also take unsuspecting men as lovers in a succubus-like fashion. She is essentially the manifestation of winter; beautiful and serene yet capable of ruthlessly killing those who are ill-prepared. She is also a reminder of a woman's fury – like nature, no woman can ever be fully trusted. Kobayashi Masaki's depiction of the Yuki-onna is captivatingly surreal. Starring Nakadai Tatsuya, the entire segment was filmed in an obviously artificial indoor set with swirling painted backgrounds (featuring an ominous eye).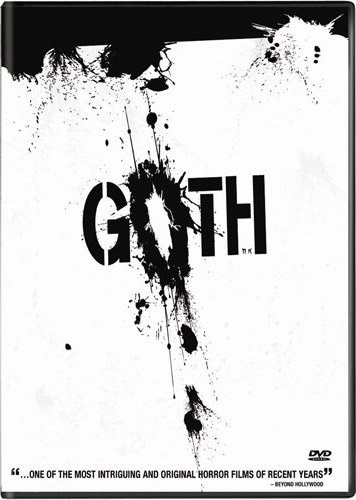 Based upon the novel by Otsuichi, GOTH is about two morbid high school students who share a fascination with murder. Kamiyama (Hongo Kanata) is an outwardly friendly and popular boy who hides his potentially sociopathic nature with a carefree, happy attitude. Loner Morino (Takanashi Rin), on the other hand, does little to hide her strange nature; she never smiles, doesn't interact with her classmates, and wears a long-sleeved, black school uniform even during the middle of summer. While these two seem to share little in common and do not interact with each other in front of their peers, their shared interest in death and murder has turned them into an unusual duo. Initially happy to exchange books on morbid subjects, a series of recent murders spark their interest and they begin investigating the killer. This serial killer has a fondness for cheerful young women and, after severing their left hand as a trophy, displays their dead bodies in public locations to be discovered. After Morino discovers the killer's notebook in a local café, the two use it to see the corpses for themselves before discovery and attempt to discern his identity. Obviously, the closer they get to discovering him, the more danger they are in.