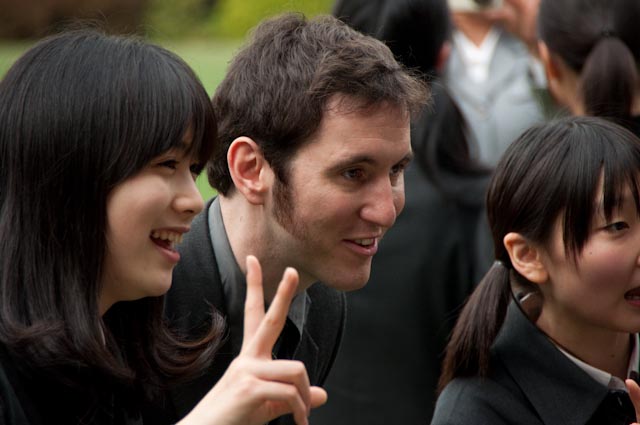 Next up in the "Teaching in Asia" interview series is my friend Philip, who some of you may know as ToLokyo on YouTube. Philip graduated from university in 2003 with a degree in English Education – Secondary and a certification to teach grades 6-12 in Florida. During college, Philip did an internship abroad in Saipan. After graduating, he moved to South Korea in the summer of 2003 and started teaching English. Then, in mid-2005, Philip moved to Japan, where he made his living as a freelance English teacher until the summer of 2010. He is currently traveling around the world filming a YouTube video series called "Caught Doin' Good," that highlights individuals and organizations all over the world who are doing good things to build up the communities around them.. With seven years of experience living and teaching in both South Korea and Japan, Philip's observations on living and working in Asia are extremely insightful and nuanced. Furthermore, as a formally-educated English teacher, his perspective on foreign-language teaching is much deeper than that of the average, run-of-the-mill ALT. He is also one of the most genuinely happy and fun-loving individuals that I have ever met; every time I see him, I am surprised by his positivity and enthusiasm. If you'd like to read more about Philip, his 'Caught Doin' Good' project, or watch his YouTube videos, please follow these links:
Philip/ToLokyo's website: http://www.locomote.org
Caught Doin' Good homepage: http://www.cdg2010.org
ToLokyo on YouTube: http://www.youtube.com/user/ToLokyo
Constantine: Why did you want to teach abroad?
Philip: When I graduated from university, I considered teaching around Asheville, NC in a high school.  I knew I'd had enough of South Carolina and Florida, and I was ready to start something new.  At that time, it was the beginning of the war in Iraq, and massive funds had been diverted from education programs all over the nation to be used in the war effort.  I heard horror stories from friends who graduated the year before of having to teach with no textbooks or resources.  In one fateful week, I randomly encountered about 5 teachers.  They all had the exact same advice: "RUN~!!!!  You're young!  You can do something else!  You don't have to be stuck in this hell of a job!  Get out while you still can~!!!!" I took the hint and decided to look into a website I had heard of a few years back called Dave's ESL Cafe.
Constantine: What sparked your interest in Asia?
For the second installment of my interview series about teaching in Asia, I sat down with my friend Nino. Nino and I both attended Boston University and shared several Japanese classes with each other. Since I always thought he was much too cool and good-looking to talk to, I actually didn't get to know him until the Spring semester of my Junior year. So, I am definitely glad that a fortuitously placed copy of Karl Friday's Hired Swords: The Rise of Private Warrior Power in Early Japan led to a conversation with him – he is one of the most intelligent people I have ever met and his knowledge of Japanese history is astounding. I can honestly say that he knows far more about samurai history than I ever will. Nino graduated from BU in 2009 with a degree in East Asian Studies and a concentration in Japanese. He has been teaching English in Japan since January 2010, first in Ishinomaki and later in Sendai City.
Constantine: So, why did you want to teach abroad?
Nino: Sadly the answer to this is more for the selfish reason of pursuing my own interest in Japanese history than anything else. Though, I do find teaching to be a fulfilling job, especially when you notice how much the student has learned. But, initially my passion for Japanese history is what brought me here; considering there's no better place to study the history of a country than in that country itself.
Constantine: What sparked your interest in Japanese history?
Nino: Damned if I know. I first became interested in middle school… I have always been quite the nerd. The answer I usually tell people is Shogun by James Clavell. But, as an academic, admitting Shogun was my inspiration is actually sort of embarrassing – considering it's such a bastardization and romanticized version of history – even if it was written as fiction. But in any case, I read it in middle school and knowing it was based on history got me interested to learn the actual history. I had always been familiar with samurai just from the general fantasy genre (which might often blend Eastern and Western mythologies or histories together) but after reading Shogun, it was the first time I actually began to pursue an academic interest.
Constantine: Shogun was actually something that sparked my interest in Japan as well. I read it at around the same age you did.
Nino: Yeah, I hate admitting it, but that's what did it.
Constantine: It's better than Sailor Moon.
I sat down with my friend Phil to talk with him about his experiences teaching English in rural Henan, China.  Phil has been an English teacher at Xuchang University since October 2009. However, his experiences in China reach far back – from a brief month teaching in Xi'an, Shaan'xi during college to an abortive attempt to teach in Harbin. In 2007, Phil graduated from the University of Colorado at Boulder with a BA in History, with a focus on China. He also spent two of those years 'attempting' to study Chinese, which in Phil's case meant routinely getting drunk with our Taiwanese-American friend Benson. As a bit of a disclaimer, I'd like to say that Phil is one of the few truly unique people that I have met in my life. I like to describe his life philosophy as, "If this isn't going to make an interesting story, then it's not worth my time." (A description that he, undoubtedly, would find not completely accurate) Needless to say, Phil lives his life with a certain reckless courage that most of us are too meek to attempt. This interview is just like Phil – colorful, off-beat, and controversial – and I'm sure some readers will disagree with it. But if you don't keep things interesting, then what's the point? You can read Phil's blog here: http://kozepsovilag.blogspot.com

Constantine: Why did you want to teach abroad?
Phil: Because I was tired of the life I had at home! [laughs] No, honestly, after a great deal of introspection provided by the copious free time of this job [teaching English], I've realized that I left Colorado because I was terrified of the 'failure' of mundane life. [pause] Seriously, though, Chinese girls have nice bodies.
Constantine: What sparked your interest in China?
Phil: It was Japan, really. After a rough adjustment period in American middle school following my family's move from Bermuda to America, I found that in high school Japanese animation cartoons provided an interest for me that I could share with other people. So, for all of high school I had a decent enthusiasm for Japanese history and ancient culture, which was almost entirely transferred to China. This gave my interest in China almost a two-year head start.
Constantine: Why did your interest transfer to China?
Phil: In college, I had a course on the combined history of Korea, China, and Japan, that presented events in a concurrent manner, and I became convinced, by my admittedly Chinese professor, that a great deal of the Japanese culture that I had idealized in my high-school fashion had in fact originated from China. That, combined with the general impression that China was the next major 'horse to bet on' as far as World Powers were concerned, allowed me to develop an intense interest in China.